Celebrate with Sangria!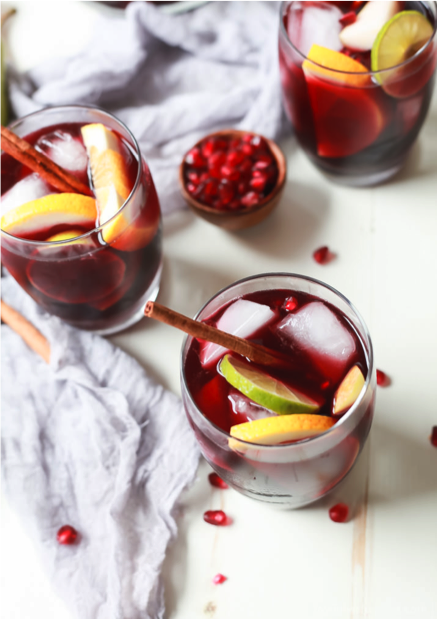 There is nothing more refreshing than a cold beverage after a long day in the Tahitian sun! Today, we are celebrating National Sangria Day with a fun (and tasty) holiday twist, perfect for sunset on Motu Teta after a long day of adventures! Sangria is a great drink to fix in the morning and come back in the afternoon after all the fruity flavors have developed.
Sangria originates from Spain in 200BC.  After the Romans conquered Spain, they planted vineyards, which soon became the homeland to Sangria.  Spanish locals struggled to find a refreshing alcoholic beverage and created fruit punches from the newly grown red wine grapes.  The name "Sangria" came from the deep blood-like color from the red grapes and because of the "punch" brandy gave the beverage.  Sangria was not introduced to the USA until 1964 at the World's Fair in New York City – and is now enjoyed across the world as a tasty and refreshing cocktail!
Delicious Holiday Sangria
Ingredients:
¼ cup agave nectar
¼ cup grand marnier
¼ cup brandy
1 orange, halved and then sliced
1 lime, sliced
1 pear, sliced
½ cup pomegranate seeds
2 sticks cinnamon
1 bottle of dry red wine (Cabernet Sauvignon)
¾ cup ginger ale
Instructions:
To a large pitcher, add agave nectar, grand marnier, brandy, orange, lime, pear, pomegranate seeds, and cinnamon sticks. Stir to combine.
Pour in the entire bottle of red wine.
Cover and place in refrigerator for 1-2 hours; the longer it sits, the better it will taste!
Right before you are about to serve, add the ginger ale to the sangria mixture.
Pour over ice and serve chilled.
Enjoy!